Wine can prolong your life! So drink up!  Wine can significantly reduce memory loss!  Did you know non drinkers suffer from memory loss at a rate much higher than wine drinkers?
Wine drinkers have a 34 percent lower mortality rate than beer or spirits drinkers. Moderate drinkers suffering from high blood pressure are 30 percent less likely to have a heart attack than nondrinkers.  Annals of Internal Medicine, 2007.  Red-wine  contain procyanidins, which protect against heart disease. Moderate drinkers have 30 percent less risk than nondrinkers of developing type 2 diabetes. Amsterdam's VU University Medical Center, published in Diabetes Care, 2005.
The possibility of suffering a blood clot–related stroke drops by about 50 percent in people who consume moderate amounts of alcohol.  Columbia University study of 3,176 individuals over an eight-year period, published in Stroke, 2006.
Moderate drinkers are 32 percent less likely to get cataracts than nondrinkers. Moderate consumption of wine (especially red) cuts the risk of colon cancer by 45 percent.  American Journal of Gastroenterology, 2005.
Here's the kicker! Brain function declines at a markedly faster rate in nondrinkers than in moderate drinkers.  Columbia University study  published in Neuroepidemiology, 2006.
So if drinking wine in moderation  has these wonderful benefits, we also need to eat the right foods so that we look amazing while drinking our wine!   Here's some great treats to enjoy this  holiday season to help you look your best!
We've all heard the old adage, "You are what you eat." But what about the connection between your food and your face?
The same phytochemicals, vitamins, nutrients and minerals that keep your insides in the pink are equally essential for clear skin, bright smiles, strong nails and clear eyes. If you want to look your absolute gorgeous best, keep these diet guidelines in mind:
Antioxidants: Found in abundance in colorful fruits and vegetables, these nutrients help combat signs of aging caused by the oxidation – the rust, if you will, of our cells. Beauty foods that are potent sources of antioxidants include: pomegranates, prunes, concord grape juice, blueberries, blackberries, purple cabbage, kale, Brussel sprouts, dried plums, kiwis, raspberries, strawberries, raw spinach, oranges, apples and watercress.  Compounds in blueberries (and other berries) mitigate inflammation and oxidative damage, which are associated with age-related deficits in memory and motor function.
Essential fatty acids: Certain polyunsaturated oils are called "essential" because they must be included in our diet. EFAs, like omega-3 and omega-6, may reduce inflammation that can clog skin and lead to wrinkles. Sources include seafood – such as salmon, sardines, trout and flounder – as well as almonds, walnuts and flaxseed.
Fish: Thirty years ago, researchers began to study why the native Inuits of Alaska were remarkably free of heart disease. The reason, scientists now think, is the extraordinary amount of fish they consume. Fish is an abundant source of omega-3 fats, which help prevent cholesterol buildup in arteries and protect against abnormal heart rhythms.
Water:  Maximize water, moderate alcohol: Water, and lots of it, will help keep your skin hydrated,    while alcohol in excess of one 4-ounce drink a day can dry it out. Also, some dermatologists say alcohol's dilation of fragile facial capillaries can cause and exacerbate rosacea.
Olive Oil: a healthy fat: While it's always important to minimize artery-clogging saturated fat, don't shy away from healthy monounsaturated fats, like olive oil and other liquid, plant-based oils that keep skin emulsified.  Olive oil was largely responsible for the low rates of heart disease and cancer on the Greek island of Crete. Now we know that olive oil also contains polyphenols, powerful antioxidants that may help prevent age-related diseases.   Fabulous Foods for Health and Healing is a great read for more ingredients for healthy eating!
Yogurt: While the age-defying powers of yogurt never have been proven directly, yogurt is rich in calcium, which helps stave off osteoporosis and contains "good bacteria" that help maintain gut health and diminish the incidence of age-related intestinal illness.
7. Chocolate:  Cocoa, which is unusually rich in flavanols that help preserve the healthy function of blood vessels. Maintaining youthful blood vessels lowers risk of high blood pressure, type 2 diabetes, kidney disease and dementia.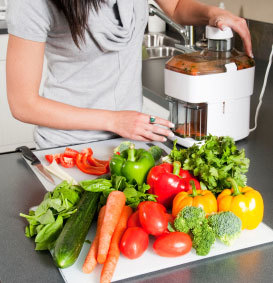 8. Nuts: Studies of Seventh-Day Adventists (a religious denomination that emphasizes healthy living and a vegetarian diet) show that those who eat nuts gain, on average, an extra two and a half years. Nuts are rich sources of unsaturated fats, so they offer benefits similar to those associated with olive oil. They're also concentrated sources of vitamins, minerals and other phytochemicals, including antioxidants.
9. Wine:Drinking alcohol in moderation protects against heart disease, diabetes and age-related memory loss. Any kind of alcoholic beverage seems to provide such benefits, but red wine has been the focus of much of the research. Red wine contains resveratrol, a compound that likely contributes to its benefits—and, according to animal studies, may activate genes that slow cellular aging.
Vitamin C: Make sure to also feed your face with vitamin C to help maintain collagen, the most important component of connective tissue contributing to the underlying foundation of your skin. The best sources of vitamin C include citrus fruits and juices, broccoli, cauliflower, cantaloupe, strawberries, tomatoes, red peppers and green peas.
Eating a diet rich in these foods will keep you younger looking and younger feeling because you are fueling your body with Premium gas! Pound for pound, fruits and vegetables have fewer calories than other food groups. Plus, they have plenty of fiber, so they'll help you feel full. Such a fruit-and-vegetable-rich diet helps ward off cravings by ensuring the body gets the full spectrum of nutrients, minerals, vitamins and phytochemicals it needs to function.
There's nothing more beautiful than vibrant good health, and there's nothing healthier than a regime that includes plenty of exercise, rest, water, lean proteins, and an abundance of fruits and vegetables and wine!
As always, live your best life!
Kecia Clarke